Vernon Businesses
There are many diverse and thriving businesses in Vernon BC that make it one of the most livable communities in the Okanagan. From food to recreation, you don't have to travel far to stay well-fed and entertained.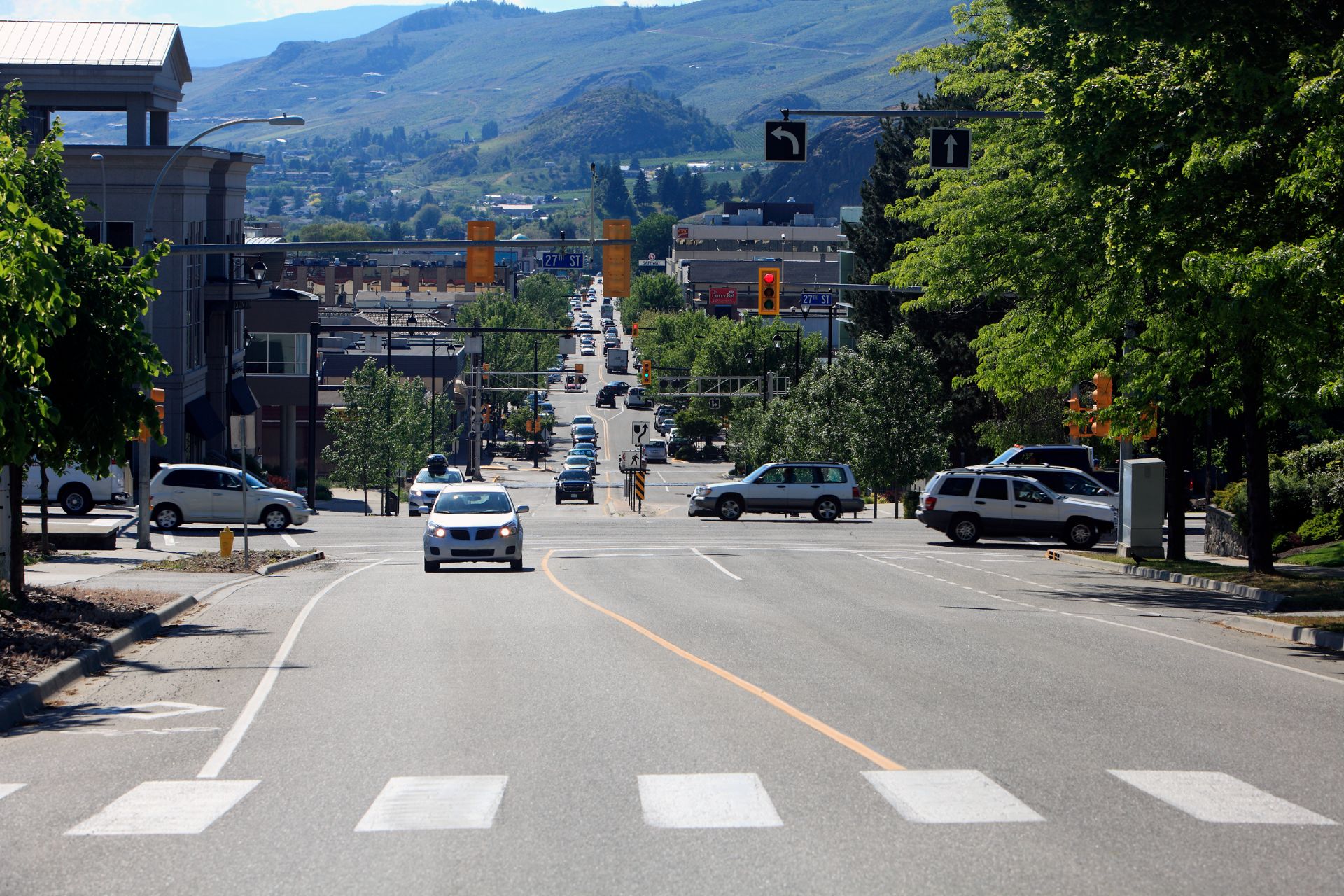 There are many diverse and thriving businesses in Vernon BC that make it one of the most livable communities in the Okanagan. From food to recreation, you don't have to travel far to stay well-fed and entertained.
Vernon Restaurants
Historic Downtown Vernon offers a little bit of everything, right at the centre of everything. You can find local history, art, and culture on display alongside convenient shopping, delicious dining, and gorgeous green spaces for lounging (and Yoga).With four seasons of adventure on hand, Vernon restaurants are plentiful, diverse, and offer delicious local fare to keep you well-fed and fueled for your next excursion.
Local favourites include:
You can find local Vernon fine dining at:
Artisanal Grocers
In case you'd rather take a more hands-on approach, you can find the highest quality local ingredients at:
Vernon Wineries & Drinks
There are many Vernon wineries to tour for a taste of some of Wine Country's finest vines. We highly recommend stopping in at any (but preferably all) of the following:
Each winery offers delicious snacks and food pairings, so you don't need to do all that tasting on an empty stomach! And if you'd like to let someone else handle the pesky planning and chauffeuring just give MOJO Wine Tours a call.
Vernon Distillery & Breweries
For those looking for something other than wine to imbibe, Vernon won't leave you high and dry! We highly recommend the following uniquely delicious options for quenching your thirst:
Vernon Activities
In the summer months, there are 3 world-class Vernon golf courses to choose from:
Kalavida Surf Shop offers paddleboarding lessons, rentals, and the largest selection of standup paddleboards in the Okanagan.
Starlight Drive-In lets you pack up the jalopy and spend an evening under the stars at the the only family AND pet-friendly cinema experience in the Okanagan.
For the winter, SilverStar Mountain Resort has all your outdoor recreation needs covered with 132 runs, unforgettable champaign powder, and family-friendly events and activities in their ski-in, ski-out village.
Discover more winter activities in our Vernon Living section.
Sparkling Hill Resort
Nestled into the pristine mountains of Vernon, Sparkling Hill Resort is a shining gem in our community. With its immaculate natural setting and impressive, modern architecture, Sparkling Hill attracts visitors from around the globe. Enjoy soaking in the views from multiple viewing platforms and balconies, treat yourself to impeccable 5-star amenities, and indulge in some of life's finest offerings! Immerse yourself in a transformative spa retreat at this wellness oasis and experience truly luxurious treatments and services. Nestled atop a granite ridge overlooking Okanagan Lake, it's easy to see why Sparkling Hill is a local favourite.
Learn More About Keith Construction, Your Award Winning Vernon Home Builder
We enjoyed working with the whole team throughout the process and were exceedingly happy with the final outcome. We first hired Keith Construction in 2013 to build our summer home in Coldstream BC.  The design, estimating and construction phases all went very well.  We enjoyed working with the whole team throughout the process and were exceedingly happy with the final outcome.  The team...
Kidd
We could not be happier in our new home. We could not be happier in our new home. While this was not our first custom build, it certainly was the most enjoyable as we were involved throughout the process. We brought our ideas and budget, and their drafstsperson was able to come up with the design we were looking for. We found every trade to be experienced and very professional craftsmen...
Keech
He always provided creative suggestions and good ideas when we had difficult decisions to make After many years of planning our retirement home, we chose Keith Construction to put those plans on paper and to construct the home of our dreams. From the inception of our house design through the construction phase, our experience with Keith Construction has been nothing but positive. The staff ...
Hemrick
They listened carefully to our ideas and they were diligent in providing workable solutions. In 2016 we engaged Keith Construction to create a new outdoor living and entertainment space at our home. Their professional, knowledgeable and helpful staff guided us through all the stages of the project, including discussion of our requirements, creation of detailed computer models, cost estimation...
Herring
We were in good hands! It was a great experience working with Keith Construction's wonderful team. They are very approachable and answered any and all questions we had. Being the second time we had built a house, it was a very different experience than our first. We were far more involved, which was great as we learned a lot and were a part of the entire process. We really enjoyed it! We...
St. Hilaire
You always hear about the horror stories from others when building a new home, but this is not one of them.   Being this was my dream home and first experience with a build, I wanted a contractor  I could trust, that would complete the project with quality and value in mind.  From the early stages of design through project completion, I felt I was in good hands with Keith Construction....
Spitzmacher
Our experience with Keith Construction, their staff and subcontractors can be summed up as "OUTSTANDING". From the concept of our major renovation to the finished project Keith Construction demonstrated their ability and depth to work with us to achieve what we envisioned to be our perfect dream home. Thank you Keith Construction!
Ward
Approaching every situation with a pleasant and professional demeanor We are very pleased to offer a letter of recommendation for Keith Construction. No one at the original groundbreaking ceremony February 2014 believed that just over eight months later October 2014, that our home had gone through such a total transformation. The entire Keith Construction crew and their subcontractors were...
Allen
Frequently Asked Questions
What kind of shopping is there in Vernon, BC?
+
Vernon is proud to support both local small businesses and larger chains, delivering its visitors the most diverse shopping experience possible. Our local shopping attractions include multiple art galleries, speciality and gift shops, markets, garment and clothing stores, beauty bars as well as arts and craft shops. For those visitors looking to try something truly unique, we recommend trying the "Olive Us" Oil and Vinegar Tasting Room or browse the stalls at the Davison Orchards Country Village.
What are the locals' favorite restaurants?
+
Vernon is home to many delights and the varied selection of local cuisine is no different. We asked the Vernon locals to select their favourite restaurants and this is what they have chosen. Rest assured, you'll be pleased with the choice to visit any of the below suggested restaurants.
Eatology
Friesen's Countrytyme Gardens

 

Midtown Bistro
The Fig Bistro
Ratio Coffee & Pastry
Wings

 

Pane Vino Pizzeria
Station BBQ Smokehouse
1913 Restaurant
What are the best fine dining restaurants in Vernon?
+
Vernon offers a wide variety of fine dining options for those visitors celebrating a special occasion or simply looking to celebrate the finer things in life. If an international wine list, steak dishes and fine dining speak to you, be sure to visit these dining treasures mentioned below:
For fine dining in Vernon, explore the following options:
Intermezzo Restaurant & Wine Cellar
PeakFine Restaurant at Sparkling Hill Resort
Fairways Restaurant at Vernon Golf & Country Club
What does Vernon have for local grocers?
+
Vernon is well known for its impeccable weather and growing conditions and is proud to offer residents and visitors high quality, locally grown, sustainable produce and animal products. Vernon offers a wide variety of artisanal grocers, offering only the highest quality products.
Our list of artisanal grocers include: 
Swan Lake Nurseryland
Davison Orchards

 

Grillers Meats

 

Planet Bee
Vernon Farmers Market
Olive Us Olive Oil & Vinegar Tasting Room
Hot Bread Shoppe
What are the best local wineries, distilleries, and breweries in Vernon?
+
It's no secret that Vernon is popular among wine, beer and spirit enthusiasts and with its list of unique venues to try, we can't say we're surprised. During your next visit, be sure to visit some of the local's top suggestions below:
O'Rourke's Peak Cellars Winery
50th Parallel Estate
Arrowleaf Cellars
Intrigue Winery
Okanagan Spirits Craft Distillery
BX Press Cidery
Farmstrong Cider Company